Richards Microfit Gunstocks, Inc.
Custom Quality Gunstocks Since 1948
Gunstocks for Over 100 Bolt Actions in 25 Different Sporter, Standard & Target Stock Designs!
20 Laminated Colors & 8 Grades of 7 Different Species of Hardwoods!
Our Gunstocks are Custom Made.... You Choose the Style, Wood Type & Action Inlet
FREE Rosewood Tip & Cap Installed on Sporter Stock Styles

Click here for Available Action Inlets

INTRODUCTORY OFFERS!
New "Tac-Driver" Silhouette Style Gunstocks!
Brown/Brown or Black/Grey Laminate Only $149
Desert Sunset & Royal Camouflage Laminate Only $159
Click Here For Details & Pricing On Other Laminated Colors *No Dealer Discount*



Apache Gold Laminate - Ruger 10/22 & .920" Clark Barrel, 99% inlet for a "Press-Fit"


Laminated Sporter Style Gunstocks
8 Different Sporter Style Designs!
23 Different Laminated Colors!
Includes FREE Rosewood Tip & Cap!
Brown/Brown, Grey/Black, or Camouflage Only $124
Thumbholes add $16 -- *No Dealer Discount*





Laminated Target Style Gunstocks
12 Different Target Style Designs!
23 Different Laminated Colors!
Grey/Black & Brown/Brown Prices Starting at Just $169




Oversupply SALE on Claro Walnut
Available For All Sporter Style Gunstocks! Includes FREE Rosewood Tip & Cap!
Grade Semi-Fancy Claro Walnut $129.97 REDUCED! Only $119
Exhibition Grade Claro Walnut - 100% FULL FIGURE! $399.00 SALE! Only $379



Semi-Fancy Grade Claro Walnut



Grade A Claro Walnut


New Cascade & Sierra Style Gunstocks
4 Different Standard Hunting Style Designs & 23 Laminated Colors!
99% "Press-Fit" Inlet
Brown/Brown, Grey/Black Laminate Only $89
All other Laminated Colors Only $109



Sierra Monte Carlo



Cascade Classic

Click Here For All Style Variations!


NEW! Six New Laminate Colors!
Available For All Sporter & Target Stock Styles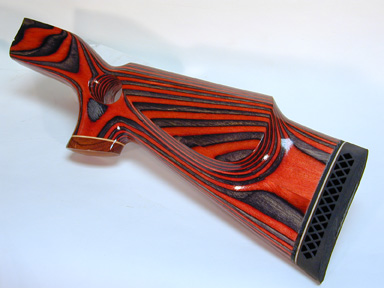 Black Widow Laminate -- Vivid Red & Black Colors!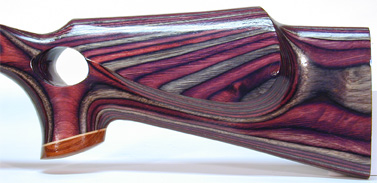 Purple Sapphire Laminate -- Rich Purple Hues & Black Accents





Blue Coral Laminate -- Purple, Rosewood, Royal Blue & Black






Autumn Leaves Laminate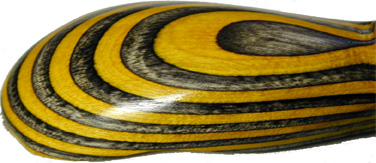 Yellow-Jacket Laminate




ALL of our gunstocks are UNFINISHED, completely shaped and ready for sanding & finishing.
They come with either a 99% "Press-Fit" Inlet which means that the action will bolt to the stock with little to no handwork involved, or a 96% "Semi" Inlet which will require some wood removal and handwork to fit the action and barrel.
Please see "Available Actions" & "Common Questions" sections for details.



Click Here! For Details On Our Complete Finishing Kit!
Only $15.99



















Richard's Microfit Gunstocks, Inc.
P.O. Box 1066, 8331 San Fernando Rd., Sun Valley, CA 91352
Tel:(818)767-6097, FAX:(818)767-0108
Email: sales@rifle-stocks.com