Richards Microfit Gunstocks, Inc.
Custom Quality Gunstocks Since 1948
Complete Tru-Oil® Gun Stock Finish Kit
The perfect finish is a TRU-OIL Gun Stock Finish! Nearly half of purchased stocks are finished with TRU-OIL! The Complete Stock Finish Kit gives you everything you need to finish a new stock or to refinish an old stock. TRU-OIL Gun Stock Finish brings out the richness and beauty of fine woods and gives you a tough, long lasting finish. And, it's easy to use. Each kit contains a generous supply of professional-grade finishing materials and complete instructions for use.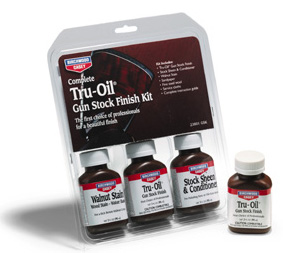 Kit includes
| | |
| --- | --- |
| | 3 oz Tru-Oil Gun Stock Finish |
| | 3 oz Walnut Stain |
| | 3 oz Stock Sheen & Conditioner |
| | Fine, Medium and Coarse Papers |
| | 00 Steel Wool Pads |
| | Service and Polish Cloths |
| | Complete Instruction Guide |

Price: $15.99



Richard's Microfit Gunstocks, Inc.
P.O. Box 1066, 8331 North San Fernando Rd., Sun Valley, CA 91352
Tel:(818)767-6097, FAX:(818)767.0108
Email: sales@rifle-stocks.com